"This project is a great example of what the New Markets Tax Credit is all about."
Dave Gibson
Senior Vice President, PNC Bank
Through partnership with Finance Fund on the Toledo Port project, PNC has helped to increase business opportunities and job creation, and enabled Toledo to be more competitive in the global marketplace.
Policy Recommendations: Supporting Grocery Development in Ohio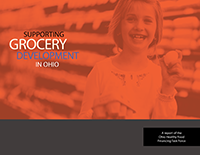 New local and state Policy Recommendations to improve access to healthy affordable food and remove barriers that are keeping grocers from locating in underserved areas of Ohio.
Developed by the Ohio Healthy Food Financing Task Force.
The first report, Food for Every Child, was released in June 2014. This report mapped communities that had high rates of diet-related death, poor supermarket access and low-income.
GETTING STARTED: I AM A...
IMPORTANT DATES

Ohio Statehouse
Columbus, OH 43216
4:30pm - 8:00pm

Additional events/dates to be posted soon.